As I failed to reserve highway bus seat, I took Shinkansen to Tokyo. Every time I go to foreign countries, I have to spend much time and money to move in domestic. This is the second time to travel to Vietnam. The last time I went to Hanoi and Hue, this time I try to go Ho Chi Minh.
11/17
Fukushima-Haneda by train
Haneda-Taipei(Taiwan) by China Airline
Taipei City by airport bus
check in dormitory
Shilin night market by MRT
dinner seafood restaurant in Shilin(shells soup, fried rice, fried shrimps)
I put my court on my sister's apartment in Tokyo, I went to the Haneda Air Port. This is the first time to use Haneda. I found it is very easy to go! This time I reached Haneda more than 2 hours before the take off. The International Terminal of Haneda had a little passengers. My flight was the first flight from Haneda at that day.
Taipei was not warm(maybe around 20 degree). After I exchanged some NT$(new taiwan dollar) from T/C, I took bus to Taipei City. An airport bus started just on time! I used to travel China, and usually buses start after gathering enough passengers. The passengers were less than 20, but the bus started!
In Shilin Yeshi (Žm—Ñ–éŽs), there are many people, it was hard to walk. I tried seafood and some sweets. Next day I tried stake and some other foods. But I couldn't eat delicious foods there. Hong Kong is much better. I was unlucky ?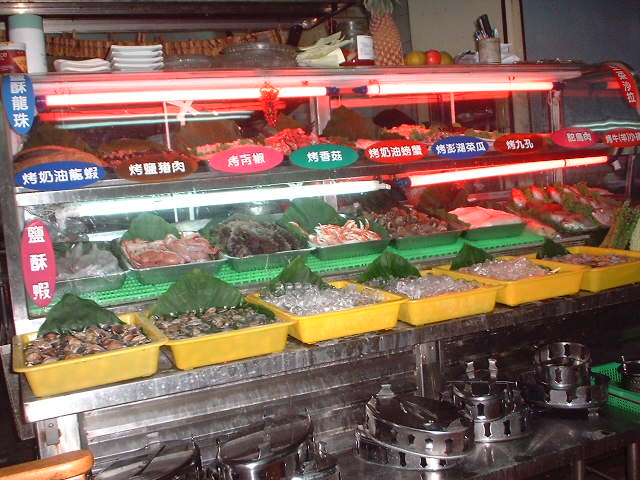 Many people was eating beef stakes, it looked like no influence of BSE/CDJ in Taipei.
11/18
breakfast:majian noodle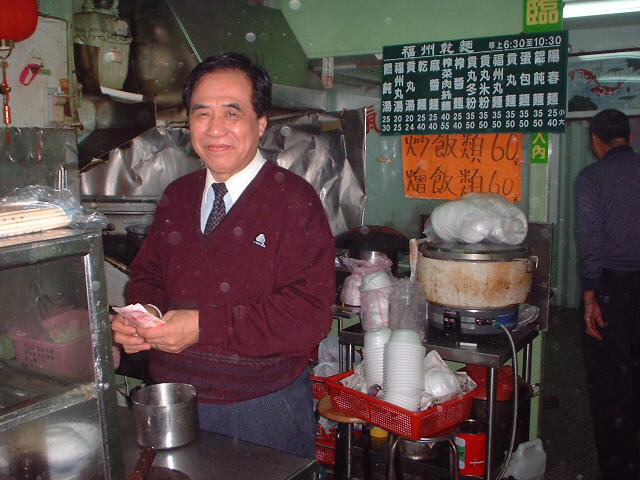 (–ƒÝ–Ëwas not good taste!)
walking around downtown
lunch:jiaozi(…éLŽq),soup(Ž_h"')
Gugong Museum
before dinner: vegitarian chinese self service restaurant
Shilin night market :ate again

In the morning I was walking the road to find restaurant (chinese one not fast-food), One woman speak to me in English. She was a traveler from Malaysia. She said her sister was working in Japan, so why don't you looking around with us. We promised I would phone to her at noon when her sister finished to pray in the church.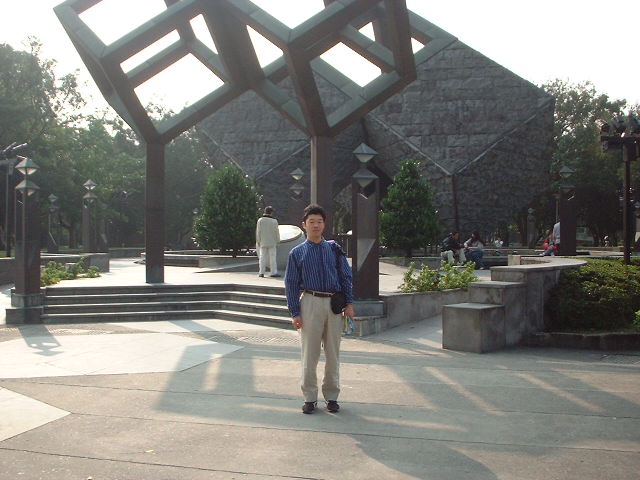 Until noon, I walked to Youhua street to buy certain pharmacy.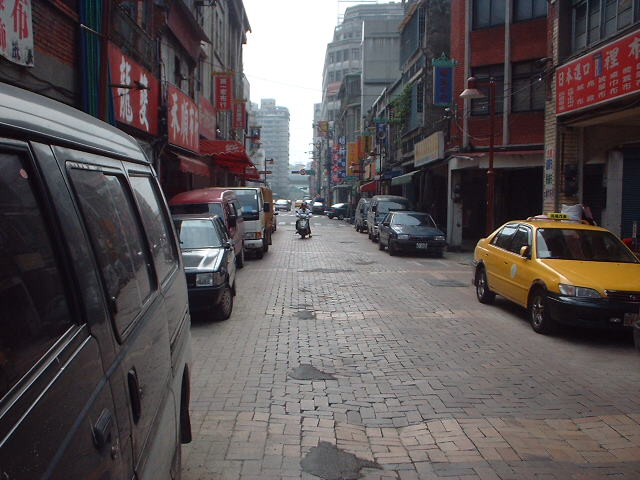 On Sunday morning, there are a few people on the street and shops are closed. I found one pharmacy shop opening, and I bought dried earthworm ,which someone said it was good when you catch a cold.
other pharmacy store pedestrian bridge one more
I phoned to her mentioned before, but the number was unavailable. I tried many times, but unavailable. If I'm in Japan, I can easily know what cause is. When I'm traveling I think many possibilities, I pushed wrong number? the phone is not available to call to cellular phone? Something wrong with telephone lines? I have to push certain numbers before her number... I abandoned to phone. After I came back from the Gugong museum, I found her hotel (I walked more than 1 hour to find out!) , but she was absent. We couldn't meet again.
I took a bus to go to the Museum. There is no guide the next stop is which one. I was looking route map and looking around outside not to miss the stop. Thanks to one of the passenger who pushed the stop button for me and told me the next is the Museum, I could get off in front of the Museum.
After I ate at the night market, I came back to the hotel. On the stairway, one woman talked to me. She asked me that she want to know the hotel "Ooshiro" which owned by a Japanese. She likes Asia especially "quiet" Japanese, escapes from Europe every vacation. In our hotel, many Americans and Europeans there, so she wanted to change her hotel. When we were talking, a Russian (maybe) talking loudly, she said "you understand why I want to escape". She is a Italian who lives in Switzerland, after staying in Taiwan 1 month, go to Okinawa. She is a vegitarian, but she likes sushi, she eats fish!