11/19
from Taipei to Ho Chi Minh by China Airline
to the downtown, Phan Gue Lao street by bike taxi
check in hotel
reserve Mecon Delta tour at Sinh Cafe
to the War museum by xich lo(tricycle man power taxi)
walking downtown
sightseeing opposite side of Saigon River by xich lo
dinner: fish pot
I got up at 4 o'clock, because the flight was 7:30.
On the airplane, the lady next seat began to eat something before being served in-flight meal. She rejected her meal, because she was a vegitarian. She is a Vietnamese who lives in Guam, and came back to meet her family. I read vegetarians are increasing in EU because of BSE. Such a tendency is worldwide?
I reached at Ho Chi Minh Airport. I need only an T-shirt. I moved from winter to summer.
I took bike taxi to Phan Gue Lao street where cheap hotels for foreign tourists are gathering. When I paid for the bike taxi driver, I had a mistake. I paid 10 times than what I have to pay! In the airport I changed $200 to 3,000,000 Vietnam Dong(VND). I had too much money, price level is very low and my sense of currency was not fit enough to count VND in English.
After I checked in the hotel($5 a day without window and airconditioner), I went to the War Museum.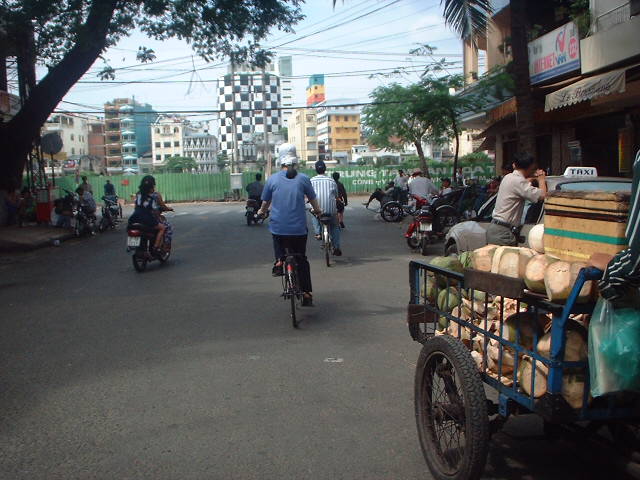 more more against dirty air more more
I've seen museums in Hanoi and Hue before. I thought this museum was the best. It mainly displays photoes in Vietnam War. It showed how U.S. army killed people and how Vietnamese people resisted. There are also many photoes of some famous Japanese photographers, Sawada Kyoichi, Ishikawa Bunyo and some others. some of them donated own photoes to the museum.
I walked to Saigon River. There one young xich lo man came along. He was very persistent. At last I decided to sightsee the opposite side of the river by xich lo. It was a big fault.
He took me to the north side of Ho Chi Minh, told me to take taxi from here, and claimed 10 times than we agreed before. He insisted what we agreed was by dollars not VND. He grabbed my money in my hand. Maybe I had a chance to stop him, but did not. To avoid worst situation. For example, being stolen passport and camera or being hurt.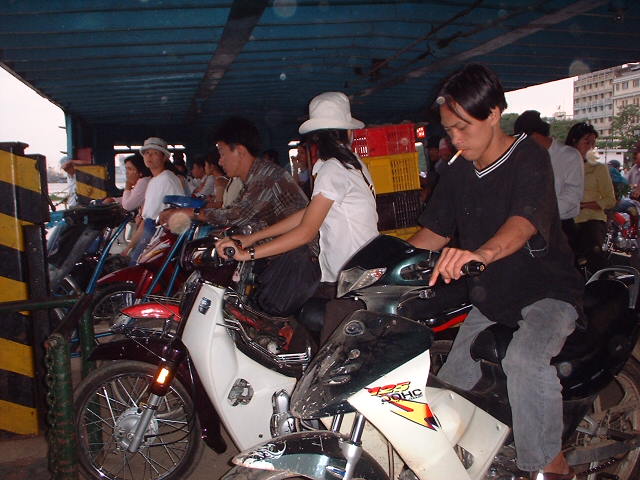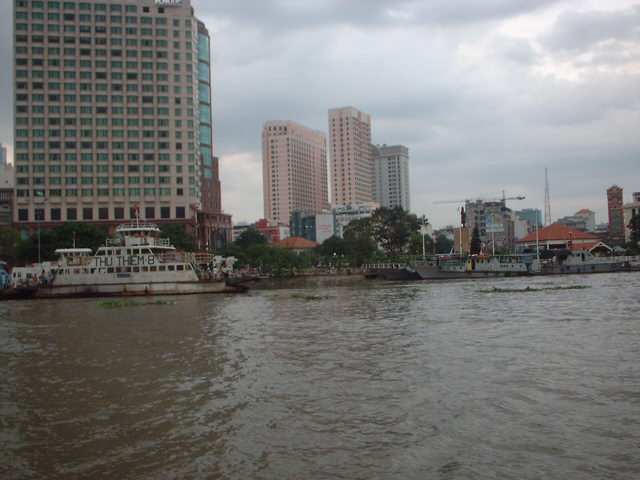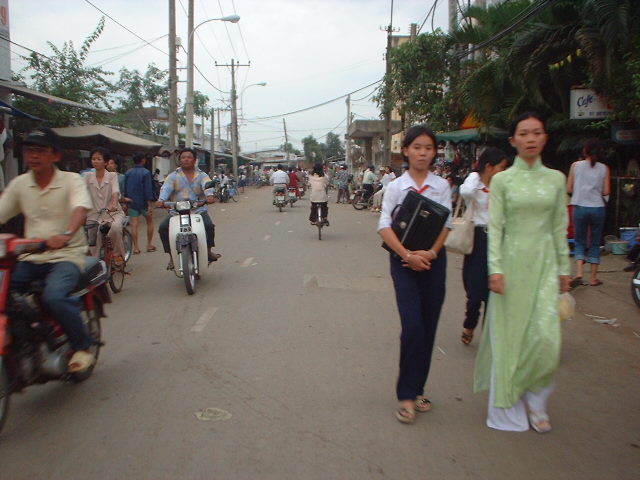 students
more
more
bridge to downtown
The first day of Vietnam was unlucky. The last time I took no license taxi. All trouble was avoidable(check the license, not to show much money etc.). I have to more careful.
In Phan Gue Lao street I checked my hotmail in the cafe. There are many Internet cafes. Year by year Internet cafe is increasing, changing rapidly. In fact the line was too slow (Taipei was very fast, many people was playing online games).